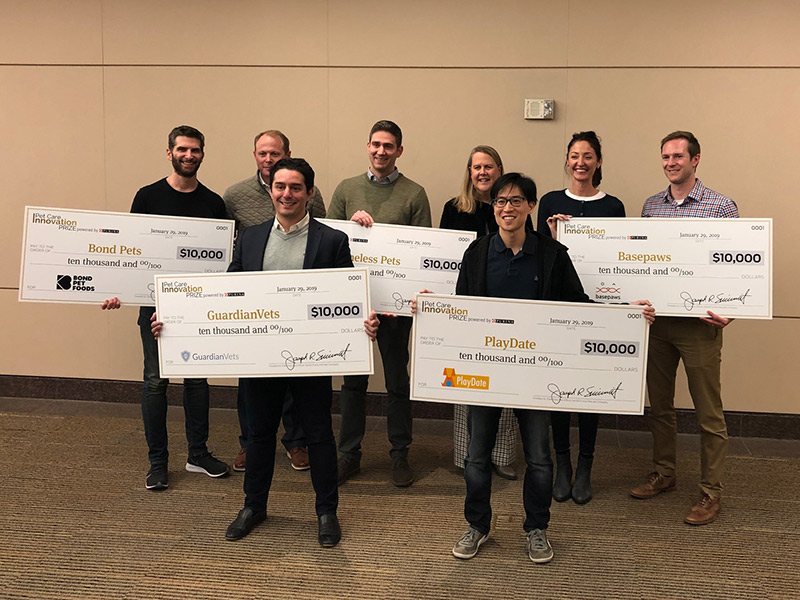 Five innovative pet care startups are going to win $10,000+, valuable business support, industry exposure, and access to a peer network of founders at fast growing pet care startups.
Will your startup be one of them? Can companies apply more than once?
First, what do Winners get from the Pet Care Innovation Prize? Winners get a lot:
Cash: The Winners each receive $10,000 (with no giving up of equity or other rights) just for attending a free Boot Camp (see below).
Boot Camp: Five Winners receive an all-expenses-paid one-week pet industry boot camp, held in St. Louis and on the campus of Nestle Purina, the leader in pet care and nutrition, for one of their founders. Additional founders can attend, but travel expenses are on their own.
Advice: The Boot Camp includes access to Purina experts, outside pet care experts, and educational opportunities tailored for a pet care startup.
Industry Exposure: All Winners get to attend Global Pet Expo, the world's largest pet industry trade show, as a guest of the show's producer, American Pet Products Association, and pitch on stage in the New Product Showcase. The PCIP also covers travel costs for one founder for Global Pet Expo.
Peer Network: Winners automatically join the Pet Care Innovation Network, where they meet fellow founders of high-growth pet care startups and enjoy exclusive content and events like the Pet Care Innovation Summit with invited investors and pet industry leaders, and have special private events at industry gatherings like SuperZoo.
More Cash!: One Winner will be named Grand Prize Winner after pitching at Global Pet Expo, and will win an additional $10,000.
All you have to do to enter is see if you're eligible, start a free application, and complete it by September 27, 2019. Check out FAQ's to see if your startup is eligible and start your application here.
What if you've applied before? No problem, the PCIP is open to companies applying more than once. Startups change quickly, so unless you've won before, you can apply again!
Have any questions? Contact hello@petcareinnovation.prize or join us September 12th for a FREE webinar to answer any questions you have.
Good luck!
The Pet Care Innovation Prize offers no-strings-attached cash, business support, industry exposure, a peer network and more to innovative pet care startups. Applications close on September 27, 2019. Apply Now!