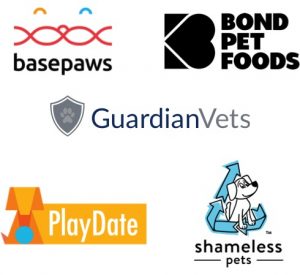 Will you be at Global Pet Expo 2019?
Please join us for the 2019 Pet Care Innovation Prize GRAND PRIZE pitch event. See five startups pitch their businesses live to a team of judges that includes active investors, industry media and the pet care category leaders at Purina.
The GRAND PRIZE winner will be announced during the event at the pet care industry's biggest trade show earning a cash prize and the opportunity to partner with Purina.
WHEN: Thursday, March 21, 2019 – 10:30-11:45 AM
WHERE: New Product Showcase stage/Global Pet Expo
PITCHING TEAMS ARE THE PET CARE INNOVATION PRIZE CLASS OF 2019:
Basepaws | El Segundo, CA
Basepaws is a pet genetics company that has developed the first consumer genetics test for cats 
BondPets | Boulder, CO
BondPets is reinventing pet nutrition, making dog and cat foods sourced from real animal protein, without the animal
GuardianVets | Chicago, IL
GuardianVets allows veterinary practices to offer after-hours care for their clients
PlayDate | New York, NY
PlayDate is the maker of a smart ball that allows you to play with your pet from anywhere in the world, anytime
Shameless Pets | Chicago, IL
Shameless Pets uses upcycling to turn ingredients that may have otherwise been lost or wasted into pet treats
While you're in Orlando, visit the Pet Care Innovation Prize Class of 2019 at BOOTH #6382. If you have any questions, email hello@petcareinnovationprize.com.
The Pet Care Innovation Prize is a collaborative effort of Purina's 9 Square Ventures division with investing leaders Active Capital to support and connect with early stage pet care startups.